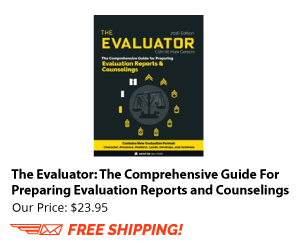 AR 623-3 paragraph 2-10b(5)
Review and sign the evaluation report after it has been completed by the senior rater before departing from a unit of assignment or military or civilian school of instruction. The rated Soldier's signature verifies that administrative data, including SSN, rating chain, counseling dates, Army Physical Fitness Test (APFT), and height and weight entries, (and Multi-Source Assessment and Feedback (MSAF) for OERs) on the evaluation report are correct and confirms that the rated Soldier has seen the completed evaluation report.
DA PAM 623-3 Table 3-2
The rated NCO acknowledges that he or she has seen the completed NCOER and verifies the accuracy of administrative data in part I (except part I, block m), the rating officials and counseling dates in part II, the duty description in part III, and the APFT and height and weight entries in part IV, block a and block b. This action increases administrative accuracy of the NCOER since the rated NCO is most familiar with and interested in this information. Confirmation of the administrative data also will normally preclude an appeal by the rated NCO based on inaccurate administrative data. Any administrative errors noted by the rated NCO will be brought to the attention of the rating officials and corrected prior to his or her signature. It is important that rated NCOs and rating officials clearly understand that the rated NCO's signature does not constitute agreement or disagreement with the evaluations of the rater and/or senior rater. Rating officials
will ensure that the rated NCO is aware of the redress process.
If the rated NCO is physically unavailable to sign his or her NCOER (and the NCOER cannot be forwarded to him or her to sign), unable to sign the NCOER digitally or manually, or refuses to sign the NCOER for any reason, the senior rater will either resolve the problem or explain the reason for the lack of a signature. Using the Wizard application associated with the electronic form within the EES, the senior rater will check the appropriate "NO" box response to the question "Is the rated Soldier available for signature?" or the comment "Rated Soldier refused to sign." The applicable statement will then be entered in part V, block b ("Soldier unavailable for signature" and/or "Soldier refused to sign").
Facebook/Twitter/Newsletter
If you think this site is useful , follow us, and sign up for our newsletter
Facebook: https://www.facebook.com/MentorMilitary/
Twitter: https://twitter.com/AskTOP
Newsletter: http://eepurl.com/bjcYH