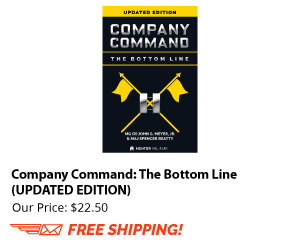 Leaders are responsible for both the good and the bad within our area of responsibility or scope of influence. We are also responsible for helping to shape, mentor, and grow the future leaders of this great nation. As part of that responsibility we must be able to recognize the difference between an honest mistake and an unforgivable sin. I will begin by putting rough definitions around these terms.
What is an Honest mistake
In my opinion an honest mistake is a mistake that does not result in serious injury or significant property damage. Subordinates learn valuable life and/or leadership lessons from honest mistakes. Others in the unit can learn from them as well. These mistakes can take many forms. Some examples are:
a minor vehicle accident that results in minor property damage
a failure to recognize an unsafe act due to inexperience
failing to check or follow-up on a task to ensure it was completed to standard
Honest mistakes are most often made by inexperienced Soldiers. Once the lesson is learned, they will probably never make the same mistake again.
What is an Unforgivable sin
In contrast, an unforgivable sin cannot be classified as a mistake. These are acts or events in which a Soldier made a conscious or willful decision to do something they knew was wrong or allowed an act or event to occur that was unsafe, illegal, immoral, unethical, and/or resulted in serious injury or significant property damage. Some examples are:
driving under the influence
abuse of illegal drugs
adultery
stealing
lying
gambling with subordinates
There are also times when an individual makes an honest mistake that is of such magnitude that it becomes unrecoverable. If a pilot accidentally pulls the ejection handle in an aircraft he will not recover from this honest mistake. He is leaving that aircraft. Likewise, a leader who fails to safe a weapon and causes a negligent weapons discharge that injures an individual cannot undo the damage. Personnel who leave classified material unattended and later find that the materials have "disappeared" have no definitive way to know who has seen or taken the material.