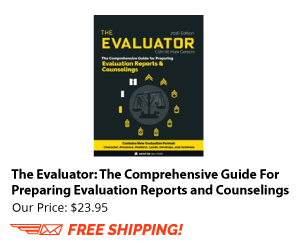 Rank Your Subordinates
Ranking is a process you can use to document your initial or gut feelings about your team's performance. It is very important that you do not rely solely on this initial process because the initial ranking is subjective (rather than objective) in nature.
So how do you begin to rank your team? Let's say you have ten subordinates. Most supervisors in this situation should be able to quickly determine their top three performers and their bottom three performers. Again, at this point you are working off of your initial reactions and your gut instincts. By identifying these six people, you've also created an "everyone else" group. These four are your satisfactory performers. Your list may look something like the one below:
Sherry                                                                 Top Performers
Bob                                                                     Bob Sherry, Bob, Diane
Diane
 ?                                         Satisfactory Performers a.k.a. "Everyone Else"
?                                                                    Teresa, John, Mark, Frank
?
?
Sarah                                                                   Bottom Performers
Robert                                                                  Sarah, Robert, Mark
Mark                                                         
At this point you have two options: You can begin to split hairs and place the remaining members of your team (Teresa, John, Mark, Frank) into the empty positions or you can allow them to occupy this zone of satisfactory performers as a group, foregoing further ranking.
Ranking like this can be an effective starting point for your evaluation process. As with any process, the only way to begin is to start taking steps. Ranking your team takes little to no preparation and requires no resources apart from a few minutes of your time.
You have accomplished a number of things by completing this step. First of all, you have begun to think critically about what your team members bring to the table. In that sense, you can think of this as a warm-up of sorts. If your organization has a quota policy (i.e., perhaps there is a rule that dictates that you may only award a limited number of excellent ratings) you've worked out a rough plan of who you think deserves what ratings. Another benefit of working this way is that it gives you an opportunity to compare your gut instincts to the verifiable facts you will be using to make your final decisions.
The value of comparing your gut instincts to the information you uncover later in the process is simple. You are evaluating yourself as a leader. If you work closely with your team and you have a good understanding of each member's contributions, your initial ranking should be easy to justify. Your top performer should be the best at what he or she does. If you manage a sales staff, your top performer will likely be the team member with the greatest sales totals. If you manage a call center, your top performer will probably be the agent with the highest customer satisfaction ratings or the shortest average ticket resolution time. That being said, there is often more to the story. Your top salesman might not be a team player. He may generate a large volume of customer complaints. He may show little initiative to grow beyond his current position. Your top customer support agent may be buying his high customer satisfaction scores by abusing special rebate offers or by telling customers how they can get around your company policies. There should be systems in place that will help you uncover these things if you do a little digging.
By drawing up a preliminary ranking before you do your thorough investigation, you will teach yourself what kinds of things you have a tendency to overlook during the evaluation process. Maybe you ranked the aforementioned salesman #1 in your preliminary list. You knew that his aggressive selling style generated some complaints, but his sales numbers were more important to you. Later in the process you find that his customers account for more than three-quarters of all complaints coming from customers handled by your section. This has a negative impact on your team so you penalize his ranking accordingly. One thing you might take away from this situation is that you need to place more emphasis on service. Not only do you need to stress this to your team members, but you have to make customer service a higher priority in your own mind as well. It's tempting to look at your best performer and tell yourself that you do not need to focus energy on this individual. They are doing well as it is. The truth is that this hypothetical salesman does have room to improve. It is your job to identify these opportunities so you can help grow your top performers into superstars.
There is one danger of ranking your subordinates before you do your in-depth evaluation. You must be honest with yourself. If, as in the above example, you find information that contradicts your initial ranking, you must adjust your ranking accordingly. Your final evaluations must be based primarily upon documented, verifiable facts. It is impossible to completely remove yourself from your personal bias. It is the lens through which you view the world. However, you must do everything you can to be as fair and as impartial as possible. If you are worried that ranking your team before looking at the facts will make it more difficult to be impartial, you can push this step to the end of the process, but keep in mind that you will be robbing yourself of a valuable opportunity to evaluate your own leadership priorities.
For more information on Evaluation Preparation see Appraisals Ratings and Reviews (ARR) for Service Members and Civilians
I trust you found this information useful
TOP