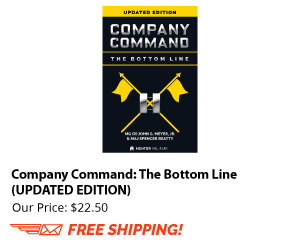 Have you ever noticed when a unit is preparing for a major inspection the unit tends to work late nights and weekends to prepare for the inspection? Typically, I found this was unnecessary in most situations. If the inspection is announced a unit has time to plan for the for it and therefore no one should have to work late or on weekends.
Case in point. I was a 1SG and we were preparing for a battalion wide Brigade inspection that would look at everything in the company from administration to tactical deployability. I sat down with my commander and asked him if I could prepare a plan for his review and approval so that we did not have to work late or weekends unless absolutely necessary. He agreed.
I gathered my platoon sergeants and the platoon leaders (I needed their buy in and they were part of the team) together and handed out specific areas of responsibilities and gave them 2 days to assign individuals to the specific tasks that would be covered during the inspection and ensure these individuals had all the information and checklists they needed to ensure they were successful in their assigned areas. We rallied back up 2 days later checked the assignments and made sure we had everything covered include an internal inspection plan.
Next, I took the plan to the commander and showed him that we had the areas covered with associated time lines and checklists provided by Brigade and that we estimated we could be complete two days before the inspection date which allowed us time to reverify any areas of concern. He agreed and we began to execute.
Each area was required to go through two inspections by a disinterested party. I had platoon sergeant checking other platoons, the commander, XO, platoon leaders, and myself were assigned areas to inspect. Next, we made it well understood this was a team effort and we would not tolerate individuals trying to shine while others failed. The goal was to help your brother and sister in arms out to ensure they were prepared.
One week before the inspection the battalion commander approached my company commander and stated "Tim, I have noticed all of the other units are working late and weekends to prepare for this inspection but you are not, should I be concerned?" My commander replied that we had a plan and we were working the plan and the leaders of the unit had it under control. The battalion commander stated: "Well for your sake I hope it is under control, I think you should be more involved then trusting junior leaders with this level of responsibility." My commander came back and expressed his concern that the battalion commander was placing pressure on him to work late simply because of the perception we were not working hard enough. In the end he agreed we made a good decision, had a good plan, and the plan was working so we continued to execute.
We also reminded our Soldiers to look to their left and right. The adjacent units were working late and working weekends. Because of their team work we were going home on time and achieving our goal of being inspection ready. We finished 1.5 days ahead of schedule. We took this time to go do final checks of every inspectable area, clean up, and tighten up. It also gave the Soldiers some time to decompress reverify uniforms and personal equipment.
The inspection lasted an entire week and the brigade conduct a detailed inspection but abided by their inspection checklists. In some ways I personally felt they were scrutinizing us a little harder because word got out, we did not take the inspection seriously, because we did not work late or weekends.
In the end, we were the only unit in the battalion to pass with no negative comments and no deficiencies. In other words, we came out on top despite not working late or weekends. Why were we successful? Because we built a plan, leaders and Soldier had buy in with the plan, we executed the plan with team work and camaraderie and took care of our Soldiers in the process.
The Soldiers did some trash talking with other units, they recognized their leadership worked smarter not harder, there were awards, and 2 four day passes for the unit. Perhaps the most gratifying part of the entire event was when the battalion commander approached the commander and said: "Tim, how did you achieve this without working late?" my commander's reply: "Trust Sir, Trust and teamwork, never underestimate the value of your Subordinate leaders and Soldiers. Give them responsibility and hold them accountable and you will be surprised at what they can achieve."
I was very proud of my unit, I was proud of the fact that my commander got to shine, but most importantly I was proud that the unit came together to achieve a common goal trusting one another and working together as a team.
This one event changed how we did business from that moment forward. Whenever possible our leaders developed plans that got buy in from the Soldiers. Assigned responsibilities and held individuals accountable.
Sometimes you can learn a lot from an inspection that you never thought possible. Morale of the story don't do what other people do. Learn from the mistakes of others, build a solid plan, get buy in, work the plan with flexibility, and Trust your TEAM!
FOLLOW US