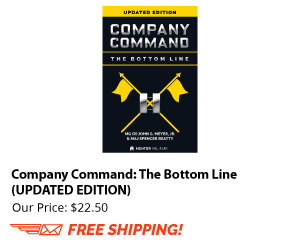 Click the link to find your copy of Beans to Bullets Logistics for the Non-Logistician
Now it's time to look at some Power Factors pertaining to hot chow.
Start with a planning factor of 50 Soldiers. In this case each "M" in the ration cycle will equal 50 MREs.
Yes, that was insultingly simple. Now comes the unpopular act of multiplying and dividing by 12.
1x Case of MREs = 12 MREs.
Divide the number of Soldiers by 12 and you have number of cases necessary for each "M" in the cycle.
1.  50 divided by 12= 4.1666666 Which means 4 cases and 2 single MREs.
If you have a ration cycle of M-U-M and you are picking up MREs for two days how many cases will you need to pick up?
1.  50 (Soldiers) / 12 (One Case) x 2 (MREs per day) x 2 (Days) = 16.7 (Just grab 17)
But MREs have more relevant numbers. The number 23 for example is the approximate weight in pounds for each box of MREs. What will be the total weight of the two day supply you have been tasked to receive?
1.  23lbs x 17 MRE Cases = 391lbs
Another important number for MREs is .9 which is the amount of cubic space needed for a single case. Your MRE supply mission will require just over 15 cubic feet of space.
That's all interesting but moving out to a mission or field exercise with one Unit Basic Load (UBL) will probably be closer to the standard. The UBL for MREs is defined as 9 MREs per Soldier. Consider the numbers we just calculated based on this standard.
50 Soldiers x 9 MREs = 450 MREs
450 divided by 12 (1 case) = 37.5 (we'll grab 38) Cases of MREs
38 cases x 23 lbs = 874 lbs
38 cases x .9 (cubic feet) = 34.2 cubic feet
These are just some things to consider when it comes to transportation, loading, unloading and storage… And that's just fifty people.
BONUS: How to Calculate Your Current Stock of MREs at a Glance Using the Sofa Method.
Most of us walk into the company CP and see what appears to be a mountain of MREs. We simply think, 'wow, we're set.' Or are we? The Sofa Method will give you a more discerning eye.
A full size sofa takes up approximately 84 square feet. So if that stack of MREs in your CP resemble the size of a sofa then depending on the ration cycle you are looking at enough MREs to feed
1.  100 Soldiers M-M-M for 3 ½ days; or