Some of you may not know how to use your hand to explain terrain features; whiles a few of us might need a slight refresher.  Below is an example of how you can use your hand  to illustrate the terrain features: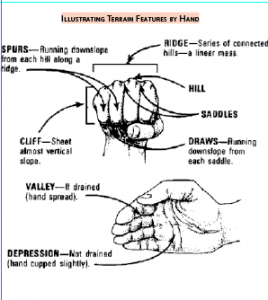 For More Information on this subject see the following resource(s):
Please Read! Help Us Help Others!
If you think this site is useful please tell your peers, subordinates, and superiors.  Also we are always looking for examples, classes, briefings, SOPs, templates and other information we can share for free in the ASKTOP.net Armsroom.  Please help us help others by sending your ARMS ROOM stuff to: mark.gerecht@mentorinc.us