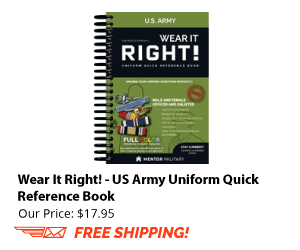 This article is the first in a series about inspections. As I travel, Soldiers share with me the challenges they are facing. A leader recently told me that they were inundated with inspections. This began a discussion about why inspections are required and what value they bring to the table.
Click to read Part 2 of this series: U.S. Army Inspections: Planning & Preparation
Click to read Part 3 of this series: U.S. Army Inspections: Barracks Inspection
The Importance of Inspections
Our combat-tested Soldiers readily understand the value of conducting pre-execution and pre-combat checks. These inspections have an immediate and definite purpose, "If you don't do your job to maintain yourself and your equipment, someone is going to die." Therefore Soldiers fully understand the value of these inspections. As combat operations draw down, more Soldiers will be increasingly required to participate in standard garrison inspections that focus on equipment and personnel. These inspections tend to lack the immediacy of combat operations. As this occurs it is imperative that leaders not only inspect their Soldiers but explain to them the value of the inspection. Leaders must ensure Soldiers understand why they are performing the tasks at hand and how these tasks are related to the mission. When Soldiers understand "Why" they usually perform better.