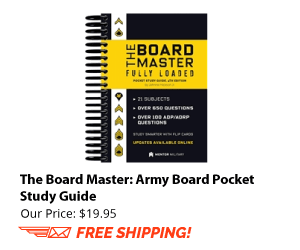 Orders will generally be cut by the National Guard 15 to 30 days from the signing of an EPS (Enlisted Promotion System) letter. However, there are several variables that could impact that time. Here are a few:
EPS List
Where are you on the EPS list? Are you number one or number eight? If you're number one, that's good. If you number eight, that could slow the processing of your promotion orders. If you not number one, every Soldier who is above you on the list must be contacted and given the right to accept or decline the promotion. If a Soldier is in Afghanistan, the head quarters command in your state must forwarded the letter thru the Chain of Command (which can cause delays) to the Soldier. Once a Soldier is contacted, each Soldier is required to sign a letter of acceptance or declination (which could take additional time if the Soldier is overseas) and the letter must be returned to head quarters (which takes time).
Records validation
As part of the process, a final validation check of each Soldier's records must be performed. Records include: APFT, NCOES, college records, awards and MOS qualifications to include the slot or MOS position. Any discrepancies will need to be investigated.
Holidays
More people will take time off at the end of the year or the holiday season. Between December 15th and January 3rd, there is a slowdown in processing any type of promotion paperwork due to a (temporary) lack of personnel.