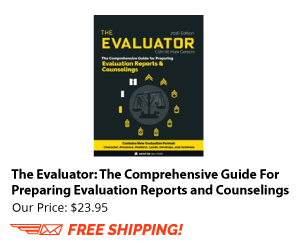 Bottomline
You will need a Change of Duty evaluation report to close out your military service.
Extract AR 623-3
3–43. "Change of Duty" report
a. A code 04, "Change of Duty" report, is mandatory when a rated Soldier is reassigned to a different principal duty while still serving under the same rater or when he or she is separated from Army service. The reason for submission will reflect the event that warranted the generation of an evaluation (that is, change of duty, discharge, separation, or retirement). No report is submitted when organizational changes merely alter the rated Soldier's principal duty title but do not change the type of work performed (for example, personnel management staff officer to Assistant G–1). A mandatory code 03, "Change of Rater" report, will be prepared when a change of duty also results in a change of rater (see para 3–40).

b. A report is mandatory when a rated Soldier is separated from active duty. It is important for raters and senior raters to identify on the final evaluation any unique skills or talents a rated Soldier possesses on which the Army can capitalize in the future if the Soldier is recalled to active duty service or mobilized in the USAR or ARNG.
Discussion
The only part of this question which concerns me is when you state "PSG is telling me that I have to do my NCOER ." If your leader is telling you to "write" your own evaluation report that is an issue.  Given the situation I would ensure you "write" a stellar evaluation report.
Going to the platoon sergeant and telling them it is inappropriate for you to "write" your own evaluation report will almost certainly ensure a poor or middle of the road report.  While you may not think your report matters there are a few civilian contractor jobs in which you might be asked to show your final evaluation report.  You do not have to show it to them but if you have a stellar report why not show it to them.  FInally if for some reason you find yourself back on active duty or serving with the National Guard or Reserve the final report might be used to ensure you are slotted correctly.
All I am trying to say is this report could have an impact on you down the road that you cannot foresee at this time. Take the time to ensure your report is prepared just as if you were staying in the service.  It is the right thing to do for you, your family, and the Army.
Please Read! Help Us Help Others!
If you think this site is useful please tell your peers, subordinates, and superiors.  Also we are always looking for examples, classes, briefings, SOPs, templates and other information we can share for free in the ASKTOP.net Armsroom.  Please help us help others by sending your ARMS ROOM stuff to: mark.gerecht@mentorinc.us