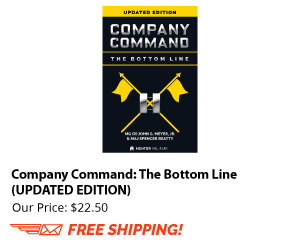 Yes. A Soldier can absolutely be flagged while in a deployed status. If the threat of enemy action is possible the session should be delayed until it can be handled during a period of reasonable safety. Remember: only Commanders can initiate flags. NCOs may recommend a flag action.
A word of caution
I strongly encourage you to discuss the potential flag action with a senior leader in your chain of command prior to discussing the flag action with the Soldier. This especially important while deployed due to the significant stress involved during a combat deployment and the possibility that the Soldier may have easy access to weapons and ammunition. You want to ensure the discussion is conducted in a professional manner and does not cause the Soldier to react in a negative or violent manner.
Based on the specifics of the situation it may also be wise to ensure that the Soldier does not have immediate access to a weapon during the notification. If it is deemed necessary to remove a Soldier's weapon prior to notification of the flag, ensure the Soldier is in a safe environment and the manner in which he is asked to surrender his weapon is professional.
You could conduct the notification in an area where it is required to store weapons in a certain location of the TOC. Position yourself 25-50 feet from the weapon storage space. This allows the leader to gauge the Soldier's reaction to the discussion and provides reasonable capability to restrain the Soldier from obtaining a weapon if necessary.
I have offered this information in response to shootings that have occurred during combat as a result of professional development gone astray. For related information please see the following ArmyTimes story from 2008: Soldier used M4 to gun down peers