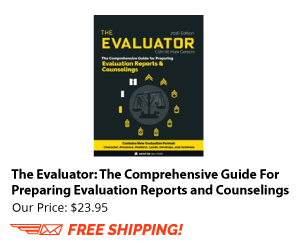 So you just finished writing an evaluation report and you sit back and gaze upon the masterpiece you created. It took you all of 15 minutes to finish–you begin to wonder why people have such a hard time writing evaluation reports. You take one final look at the report and realize you forgot to mention something extremely significant. How could you have missed that?
Truth of the matter is that it is very easy to overlook events while writing evaluation reports, especially if you have not properly prepared beforehand. Most leaders believe they are writing fair and accurate reports. However, some leaders fail to recognize how many factors come into play when writing an evaluation. For example:
What was your mood at the time you wrote the report?
What was the last significant event that occurred with the individual you are preparing the evaluation report on?
How is this individual viewed by your superiors?
What was their prior evaluation report like?
Many people believe they are professional enough to discard such thoughts, and to a large degree, this is true. However, these factors are always present and have more of an impact on an unprepared rater or senior rater than they do on one who has prepared properly. You are a leader. You are paid the big bucks to work a little harder to ensure your subordinates get a fair and accurate report. How do you make sure the report is fair and accurate?
Step 1: Set the foundation