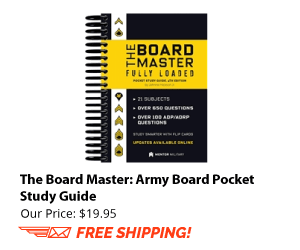 A letter to the president of the selection board is seen by voting members of the board. You may write to the board president to call attention to any matter that you feel is important and/ relevant to your selection for promotion. The memorandum should be very brief, well-written, and carefully proofread.
A letter to the president of the promotion board is your opportunity to clarify discrepancies in your record. This is not an opportunity to contest evaluation reports or other events that you feel may have been an injustice, nor is it an opportunity to brag about your abilities. In my opinion the following subjects would be appropriate to include in a letter to the President of the Board:
Any conflict between your duty title and duty description.
An NCOER that may have an incorrect HT/WT that is obviously in error and not an attempt to justify being overweight.
You may have made several attempts to have items placed in your AMHRR and they have not been included. You should bring this to the attention of the President of the Board and possibly include hard copies of the documents as enclosures. Ensure that the document you include are eligible for inclusion in your file.
You may have recently completed a school, such as battle staff, for which the 1059 did not make it to the board on time.
Your last NCOER may not be reflected as verified on your ERB.
You may have duplicate documents in your record.
Another Soldier's documents may be in your records and have not been removed.
Another Soldier's documents could have been in your records and were blacked out. You may want to explain this to the board and ensure that they understand that it was not an Article 15 or other derogatory information.
You should also understand that should your letter include information that is inappropriate for members of the board it will not be allowed to be viewed by the board. The book the Mentor contains a sample copy of a memorandum to the President of the Board.  You might also find other examples on the internet.
FaceBook/Twitter/Newsletter
Please follow us and sign up for our newsletter
Facebook: https://www.facebook.com/MentorMilitary/
Twitter: https://twitter.com/AskTOP
Newsletter: http://eepurl.com/bjcYH
TOP