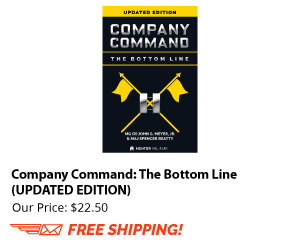 Written by guest author: CSM Schmitz.
Command Sergeant Major Schmitz, currently serves as the Battalion Command Sergeant Major for the 297th Military Intelligence Battalion. He has served in all leadership positions from Squad Leader to Battalion Command Sergeant Major. Some of his leadership achievement include: serving as a Drill Sergeant and his induction into the Prestigious Sergeant Audie Murphy Leadership Club. He enjoys sharing his leadership experience with others and assisting them in developing innovative and meaningful solutions to the complex issues facing today's military leader.
Mission—We hear that word quite often in the military. Every unit has a primary mission, and the Army expects the unit to be able to accomplish this mission when called upon. For the 513th Military Intelligence Brigade that mission is to provide tailored, multi-disciplined intelligence and intelligence capabilities in support of CENTCOM, ARCENT and other commands, to defeat adversaries, promote regional stability, support partners and allies and protect U.S. interests. The Soldiers and civilians within the Brigade accomplish that mission extremely well on a daily basis. From an Intelligence Analyst working in the Theater Ground Intelligence Center producing fused intelligence, to an agent working in the Qatar Resident Office developing contacts within the region, everyone is focused on developing and producing intelligence products in support of a commander's intelligence needs within the CENTCOM Area of Responsibility. In fact, the Soldiers and civilians within the Brigade accomplish this mission so well that the Brigade is praised constantly for the support we provide to various customers. Let me say that a different way… The Brigade and its subordinate Battalions and Companies garner praise for the hard work and competence of their Soldiers. The Soldier is the reason those missions are completed and the reason this Brigade is known as the premier Military Intelligence Brigade in the Army.