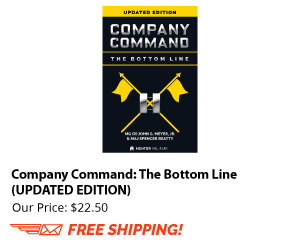 This following is an Extract from the Book Guidebook for the Young Officer
How do I relate to my platoon sergeant?
This question also begets a few comments of philosophy before directly addressing the issue. Leader-subordinate relationships have been endlessly researched. Best-sellers come out every year addressing the "latest" and "best" approach to motivating and guiding one's subordinates. But I can simplify situational leadership by adopting four different approaches, depending on the type of followers that work for you. My four categories of subordinates are—
Type 1: Highly motivated with a gifted cognitive ability.
Type 2: Highly motivated with little to average talent.
Type 3: Poorly motivated with a gifted cognitive ability.
Type 4: Poorly motivated with little ability.
What Type is Your Platoon Sergeant?
The first requirement is to determine which of the four types most closely matches your platoon sergeant. Once you've made an assessment, act according to that type. My guidance on how to interact with each type is cited below:
Type 1: Highly Motivated with a Gifted Cognitive Ability
If you happen to have a Type 1 platoon sergeant, you are blessed. Give this platoon sergeant general guidance about the standards you expect. Give him the leeway to prepare and train the platoon while you participate and inspect. Yes, inspect. Good platoon sergeants want the platoon leader to inspect the troops in garrison, the motor pool and the field.