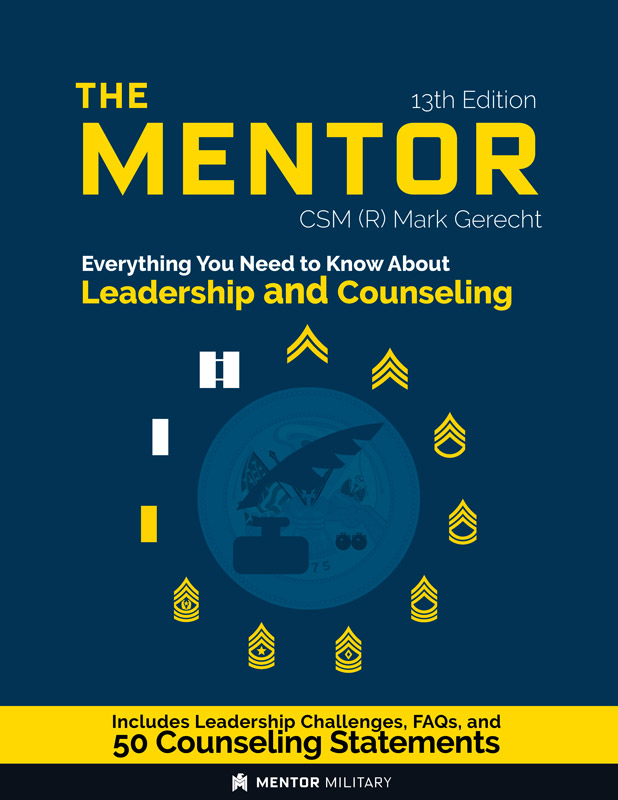 The Mentor: Everything You Need to Know About Leadership and Counseling
The Mentor is written by Mark Gerecht, SME and host of AskTOP.net. This guide contains a plethora of practical information for any Army leader. Inside you'll find references, advice, 50 counseling examples, and 52 leadership challenges to walk you through your most difficult challenges.
$23.95
The Mentor offers practical guidance for Army leaders of all levels. Prepare for a variety of leadership challenges and produce positive results. This edition goes beyond leadership basics, and includes sections on counseling, corrective training, promotions, and much more. Eliminate repetitive tasks, and maximize your leadership time with Soldiers and focus on the mission requirements. Implement corrective training that produces results, and understand adverse actions such as flags, bars, and separations.
Take advantage of 50 example counseling statements, to use as a starting point to fill out the DA 4856. Each counseling example includes a list of relevant references to address the specific situation. From the purpose of counseling, all the way to the assessment, The Mentor provides great examples to start from. Failing to fill out this form properly can have unintended negative consequences. Don't let a single form impact your leadership.
Contains:
Example counselings complete with sample assessments, and Army references
52 leadership challenge scenarios
Hundreds of sample bullets for NCOERs
Also contains information on the following subjects:
Promotions Boards: Prepare yourself for the promotion board and learn about reporting and board procedures.
Corrective Training and Privileges: Learn how to conduct corrective training, revoking privileges, and what actions are within your power.
Adverse Actions: Find information on the chaptering process, suspensions, flags, and bars to reenlistment.
References: A useful collection of Army regulations, GTAs, FMs, and punitive articles for the UCMJ
What others are saying:
"The Mentor, will coach you through the toughest leadership challenges and show you the way to make your team members shine… Your boss will be impressed with your skills, but more importantly your soldiers will excel and the mission will get done with a lot less struggle on your part. The Mentor is a must read for serious military leaders."
—Col (Ret) Jo B. Rusin, U.S. Army
"…The Mentor provided ideas I would have never thought about and has been instrumental in my leadership and enhanced my skills in developing my Soldiers and maintaining a team with a great working relationship."
—SSG Mackie Ocampo
"…not only gave me the expertise I needed but saved me countless hours of looking up information. Get a copy today and improve your leadership skills. It is definitely a book of knowledge you cannot do without."
—SGM Linda Kessinger
---
Leave a Review
[RICH_REVIEWS_FORM]
[RICH_REVIEWS_SHOW category="page" num="all"]