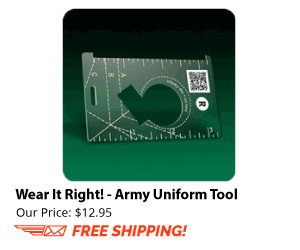 Like it or not what happened in the example above happens every day to Leaders.  We must decide how to use our time, prioritize requirements, solve problems, and maintain the good order and discipline of the unit.  How can we achieve this when like the Police Officer we do not have the resources or capacity to ensure every law, order, or regulation is interpreted/enforced to the letter of the law each and every day, 365 days a year?  How do we remove our emotions (coffee being spilled) How do we maintain the standard and enforce discipline while at the same time doing our best to ensure fair and equitable treatment?
 Answering the Questions:
1. Is the relationship between a parent and a child fraternization under Army Regulation?
I could find nothing that specifically prevented a child from seeing their parent.  I could find no reference that directly indicated this activity would be considered fraternization.  Nor do I believe the intent of the fraternization policy was designed to interfere with a Parent/Child relationship. The biggest reference I could find supporting the fact that this is not fraternization was in AR 600-20 paragraph 4-14d.  Specifically it states:
These prohibitions are not intended to preclude unit based normal team building or activity based on interaction which occurs in the context of community based, religious, or fraternal associations such as scouting, youth or adult sports leagues or teams; membership in organizations such as the Masons or Elks; religious activities including chapel, church, synagogue, mosque, or religious education; Family gatherings; unit-based social functions; or athletic events.
However the regulations do place a certain amount of responsibility on members of the Army.  AR 600-20 specifically paragraph 4-14b states with regard to fraternization.
Soldiers of different grades must be cognizant that their interactions do not create an actual or clearly predictable perception of undue familiarity between an officer and an enlisted Soldier, or between an NCO and a junior-enlisted Soldier. Examples of familiarity between Soldiers that may become "undue" can include repeated visits to bars, nightclubs, eating establishments, or homes between an officer and an enlisted Soldier, or an NCO and a junior-enlisted Soldier, except for social gatherings, that involve an entire unit, office, or work section. All relationships between Soldiers of different grade are prohibited if they—