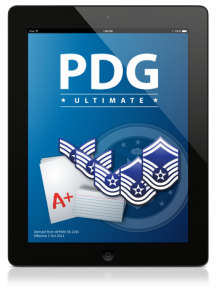 PDG Ultimate
The most powerful PDG study tool available. This app comes packed with over 1,700 questions and 4 different study modes.

PDG Ultimate is your all-in-one study guide for Air Force promotions.
Worried about compromising your test? Not a chance. Airmen are forbidden to use test prep tools that use questions taken from previous tests, and we would not put you in that position. PDG Quiz is a study aid built from material taken out of the Air Force's own published study material. No actual examination was used to generate these questions. To drive this point home, every card includes a specific paragraph reference that shows you right where the information exists in the PDG.
Next time you find yourself bored during a long commercial break or sitting in the waiting room at the dentist, pull out your iPhone, iPad, or iPod Touch and start making your way towards more stripes, increased pay, and professional fulfillment.
Features
Nearly 1,700 multiple-choice and true/false questions
4 different studying modes
Study without an active internet connection (3G/WiFi not required)
Mastery system will skip questions you consistently answer correctly (Practice Mode only)
Save your highest quiz scores and share them online
Review your quiz results and see which questions you missed
Appealing graphics and familiar touch controls like swipe gestures
Questions include PDG page references for in-depth study
Quizzes are generated randomly, you'll never see the same quiz twice
Mission Mode: A study game that will truly put your knowledge to the test
Flashcards for those that prefer tried and true study techniques
Notes
Effective for promotions through Fall, 2015
Content derived from the latest PDG (OCT 2013)
Professionally developed App, created and supported by the leading publishers of professional military reading and digital media
---
Leave a Review
[RICH_REVIEWS_FORM]
[RICH_REVIEWS_SHOW category="page" num="all"]